Daylight/Twilight High School
This 101,000 sf urban infill project locates the Daylight Twilight High School—which serves recent dropouts and students at risk—between two existing vacant buildings that were earmarked for demolition. The twin, five-story structures that date to the early 20th century serve as bookends for the new campus, which also takes in a new three-story infill building and an open plaza in a secured courtyard.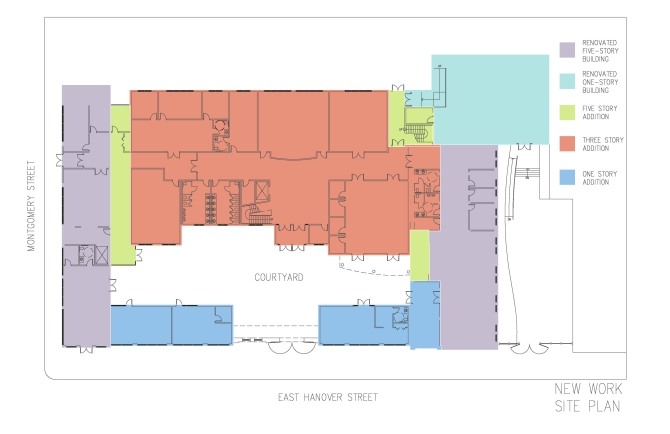 This community-based school, funded by the New Jersey Schools Development Authority, offers an alternative educational program tailored to high school students who are at-risk academically, behaviorally, socially, as well as returning adult students. Additionally the two upper levels of the five story buildings house the Mercer County Community College program providing a continuum of education from high school to College.
The vocational-focused curriculum offers:  Cosmetology, Culinary Arts, TV Production, Engineering, Business and Computers. The facility also includes a daycare center primarily for student parents, as well as a media center and lecture rooms that are open to the public.

Hidden within the front facade is a pleasantly appealing courtyard that was strategically designed between the one story structure and the street front, which provides for passive activities and a secure area for the students.
The building was sustainably designed with features such as energy efficient HVAC systems, exterior natural light and lighting control. The design team also maintained the integrity of the existing buildings by salvaging the exterior brick walls and replacing the windows with historic replications.  The new addition is clad with stone face concrete masonry, metal and pre-cast.