Public Safety Headquarters Building
The Jersey City Public Safety Headquarters (JCPSHQ) Building will be a new state-of-the-art, 11-story, 120,000 sf office building for the Police, Fire and 911 dispatch operations of Jersey City, NJ. The City is spending $188 million overall to create a municipal campus that will include community driven services and engagement, as well as centralize City Operations and Public Safety, together and more cohesively within the same location.  JCPSHQ will be the 4th building within the municipal campus located within the "Hub" Bergen-Lafayette neighborhood: newly branded as "Jackson Square." Its future home resides directly next to the recently completed City Hall Annex at the corner of MLK Drive and Kearny Avenue.
Designed to become an iconic and cutting-edge facility, the headquarters will be visible from downtown Jersey City and lower Manhattan, it will allow for modern public safety means and methods supported by 21st century technologies. As stated by Mayor Steven Folup, earlier during project kick-off, it will help "bring economic activity and opportunity to an area that deserves it." One focus around the redevelopment effort is to make Jackson Square "employment central." The idea behind the evolution of Jackson Square is to bring new energy back to Martin Luther King Drive, while recognizing the area's meaningful history and significance within the City.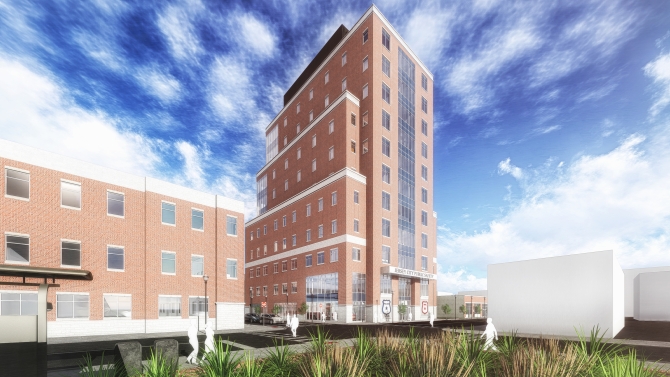 To that end, the design of the JCPSHQ building will focus on embracing the advantages of synchronizing department operations and efficiencies. Offices for the Police, Fire and Public Safety Directors will be housed under the same roof as a 3,400 sf area that will be dedicated to three training rooms and one testing room. The building will also include a Communication Center comprised of a 34 console 911 call center and other operational support areas.
Furthermore, many public service spaces will be shared for public use. Some notable functions will include the "One Stop" area to allow residents the convenience of applying for and receiving permits and paying violations. The 9th floor will be a multi-purpose event space that will be useful for press conferences, graduation ceremonies for recruits that pass their exams and become fire fighters or police officers, and community-related conferences, etc.
Perhaps one of the most unique aspects of the building program will be a dedicated space located adjacent to the 2-story open lobby with freestanding stair, called the "Recruitment Center." Accessible to adults and children, it will operate as a small museum, paying homage to the history of Jersey City, those who have dedicated their lives to serving and protecting its residents, and offering information for those curious about pursuing a profession in public safety. Some items that will be on display include a fire pole, vintage fire truck and police vehicle. To view the full press release, click here