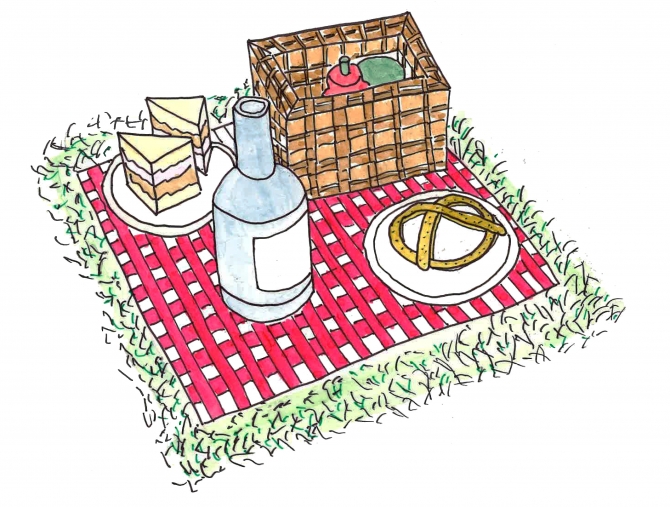 USA Architects is happy to announce we will be participating in this year's Philadelphia CANstruction Event on July 13 – July 18, 2019!
So, what does this mean? The CANstruction event brings teams of local architects, engineers, manufacturers, and contractors together to build giant sculptures made entirely out of cans of food. After the event is over, we will donate the food to Philabundance which not only is a wonderful non-for-profit organization that fights hunger in Philadelphia, but it's also a current client that we know personally.
Right now, the team is busy planning concepts and sketching a ton of ideas. This year's theme is "Flourish!" What comes to mind when you think of "flourish"? For us, we're thinking about community – the feeling of togetherness and how food plays a role in making people feel connected. We're also thinking about how this fund-raiser will help others flourish through the community effort of fighting hunger.
Picnics are a modern equivalent of the cornucopia: a symbol that represents hard work reaped by a fruitful harvest, a symbol of thanksgiving. When people work together and exchange gratitude, everyone can flourish! Picnics require organization and collaboration too! And setting up a picnic can be much more engaging when compared to setting a table.
Based on our concept, we have a goal of ordering 4,300 cans which equates to a $4,000.00 fundraising goal. 
We're asking for your support in the amount of donations. Suggested sponsorship levels are listed below, but any amount would be appreciated!
"Abundant" - $500
Everything in our "Bountiful" Sponsorship Level, plus
Entry into a raffle to win a $500 Voucher towards Philabundance Catering Services
"Bountiful" - $250
Company Logo or Individual Name on Sculpture Poster
Shout Outs on our Social Media Platforms
"Plentiful" - $100
Company Logo or Individual Name on Sculpture Poster During the Event
You can pay, via Paypal or write a check payable to: "USA Architects CANstruction" and mail your payment to: USA Architects, 20 North Doughty Ave., Somerville, NJ 08876, Attn: Melissa Kelly
For more details about the event and it's cause, view our sponsorship pamphlet.
Thank you for supporting us! We'd love to see you at the event as well!  So, come back to the blog for more updates and more details about our design!