Our client's health and wellbeing are extremely important to us. So much so, that even before the pandemic, we set their health as a priority when we designed the new "Green" TRIAD1828 Centre. This new 11 story office tower (and 7 story parking deck) provides a healthy and sustainable environment for its occupants and what we find most impressive in today's world is that TRIAD1828 Centre was able to open its doors to employees during the pandemic!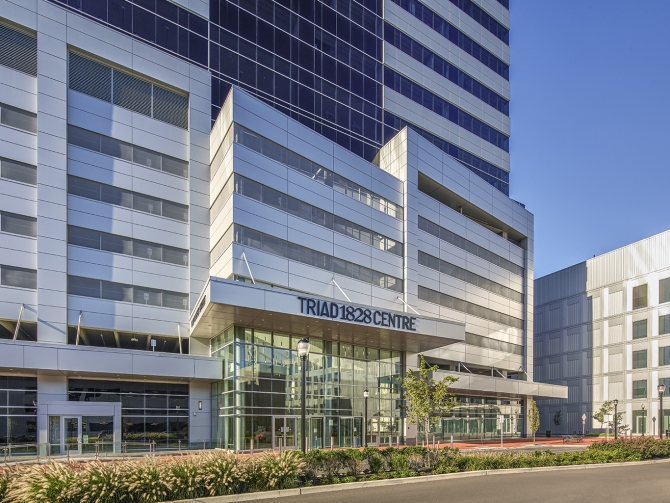 Green Design Thinking and Methodology 
During project design, the LEED rating process allowed us to prioritize our decisions about the building and later served the team's ability to create a safe and healthy environment during the pandemic in 3 main ways:
Healthy Indoor Environments

: The team focused on reducing built environment irritants which impact human health.

 

Reduction of Touch Surfaces & Comingling

: The employees have minimum exposure in elevator lobbies and within elevators cabins.

 

Enhanced Filtration Systems

: We selected enhanced features that specifically filter out toxins and contaminants from the air. 

 

​

​
As we continued exploring how best to create a healthy building, we looked at the effects of high versus low indoor air quality and the findings where astounding:  
Humans breathe in more than 15,000 liters of air each day

 

Air pollution is the number one environmental cause of premature death (1:8)

 

Indoor air quality can diminish productivity, and can contribute to a range of negative health outcomes (asthma, allergies, and upper respiratory illness)

 

While most think of air pollution as an outside air problem, the interior environment can be 6x greater inside a building.

 

Maintaining a good level of IAQ (Improved Air Quality) depends on how pollutant sources are controlled, how contaminants are removed from outdoor air and how it offers a supply of outdoor air; among other factors.
Now, with COVID-19 in our peripheral vision,  
TRIAD1828 Centre combats IAQ challenges.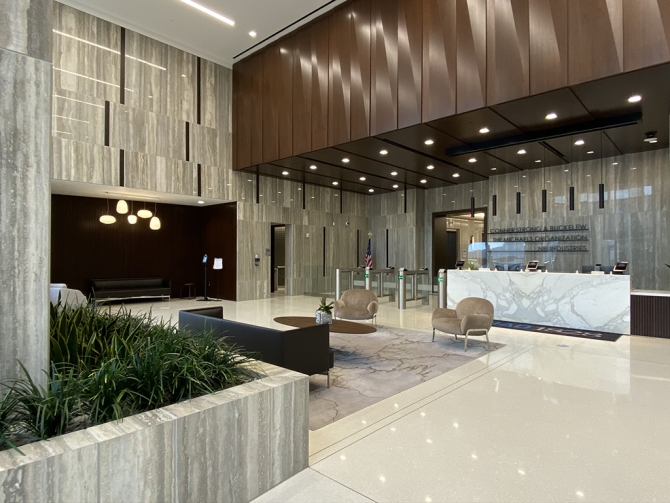 Our building offers improved IAQ specifically through the following ways:  
Rated Beyond the Minimum IAQ Performance & includes Enhanced IAQ Strategies: 
Required for all LEED certifications, the building's HVAC systems are designed to meet ASHRAE 62.1 -2010 standard for mechanically ventilated spaces which balances the fresh outside airflow for optimized ventilation and comfort to minimize negative health effects for occupants. As a testament to our commitment in promoting employee comfort, well-being, and productivity, we invested in Enhanced IAQ Strategies, beyond the minimum LEED requirements stated above: 
Entry Way System:

captures dirt and particulates entering the building at entrances and reduces particulates entering the air within the building. 

Interior Cross Contamination Prevention

:

independent exhaust from spaces where hazardous chemicals are present (

i.e.

: parking garage, copy rooms, custodial closets), designed under negative pressure to reduce infiltration into occupied space 

 

Enhanced Filtration:

the ventilation systems we installed were originally designed to accommodate MERV-13 filters, then updated to accommodate MERV-15 filters which will trap 85%-94% of bacteria and droplet nuclei (sneeze particles) from the air.

MERV-15 filtration is typically found in hospitals..

 

Green Cleaning Program

:

maintaining our commitment to healthy indoor air, we have reduced cleaning agents that adversely affect human health. 

 

Selected Low-Emitting Materials

:

we ensured that the selection of materials within the building had a low-VOC (

Volatile Organic Compounds)

rating close to 0. Often this is referencing construction materials such as paint, vinyl, and adhesives, etc.

 

 ​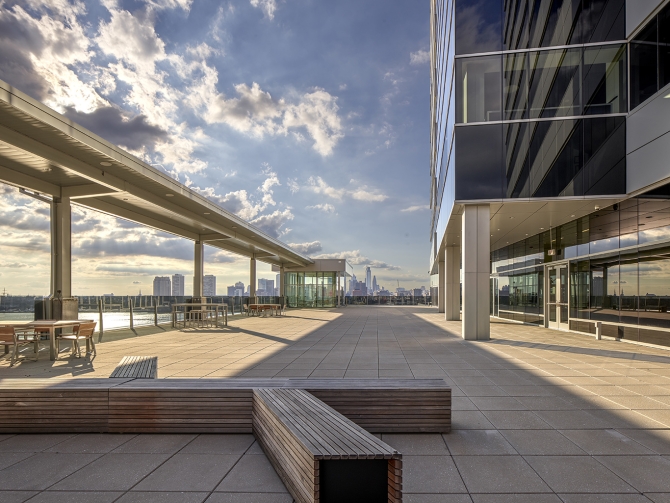 Environmental Tobacco Smoke Control

:

Recognizing that approximately 400,000 premature deaths can be attributed to smoking annually in the USA

smoking is prohibited within the building, on outdoor patios, and within 25'-0" of all entrances. This reduces health risks to smokers by deterring smoking, and to non-smokers as second-hand smoke exposure contains the same toxins.

 

Touchless Elevator Operations:

At the time, we thought

they

were simply "cleaner" and more time efficient. Now we are grateful that touchless elevators reduce high touch surfaces that can spread sickness and only allow users to occupy spaces they have been approved for (cohort model) which minimizes exposure to more people.