185 South Third St - The Confluence
Sitting at the gateway to the city, 185 South Third Street is a threshold for all who enter Easton's downtown core. This site lays at the confluence of the Delaware and Lehigh Rivers, a riverine landscape which defines the historical and ecological identity of the City. The proposed development is inspired by this grand confluence.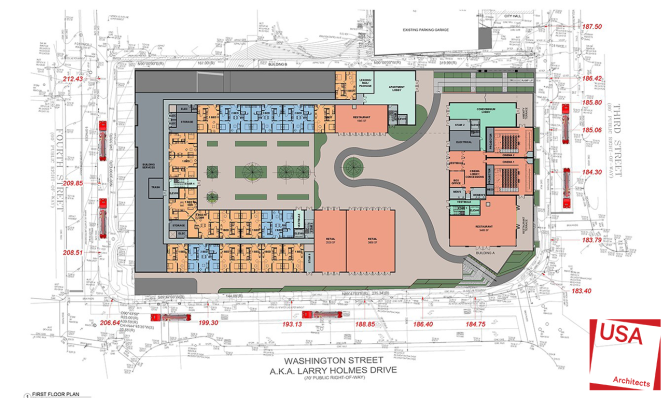 The six-story U-shaped residential structure includes 212 one- and two-bedroom apartments; 42 two- and three-bedroom condominiums, including 3 two-story, three-bedroom condos spanning the fifth and sixth floors overlooking South Third Street; and a restaurant/bar and 105-, 85- and 30-seat cinemas that can be used for live performances and other events on the first floor. In addition to the 12,000 SF space that will be comprised of these dining and entertainment areas, 4,000 SF of first floor space will be rounded out by a Visual Arts and Studio space, above which will be the community pool deck.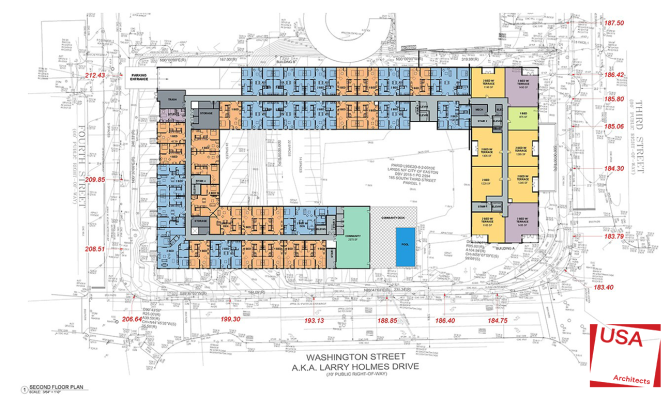 From the onset of this project, the communal stairs were designed to engage the corner of Third and Washington Streets to connect the elevated plaza and street level while also being directed at the views toward the Lehigh and Delaware rivers. The Confluence is envisioned as a gateway to the City, greeting visitors at South Third Street and Larry Holmes Drive with inviting views of a public plaza up these communal stairs that rise from the intersection. Its frontage on South Fourth Street is designed to appear as individual townhouses to reduce the scale of the project, with inspiration drawn from windows and other architectural elements found in the city.