Developmental Learning Center
Morris Union Jointure Commission
The new 167,000 square foot Developmental Learning Center, operated by the Morris-Union Jointure Commission, offers a public school program based on the principles of applied behavior analysis for students with autism and related developmental disorders and physical challenges for ages 3 to 21 years of age. Designing to the highest environmental standards was vitally important to the health and well being of this highly sensory-sensitive student body.
DLC is a place that focuses on educating students and acquiring life skills in a monitored setting from a very young age to develop their independence and self worth, making their transition into the outside world far less intimidating and more productive.
The planning process involved administrators, educators and parents to introduce a new paradigm in how to address the needs of these students in a revolutionary way. Over 12 months, through meetings, field trips to similar schools and behavior observation of the students by the design team, the design concept began to evolve that makes this project educationally innovative:
"Main Street", the main hallway, is a sky-lit corridor that models a downtown street complete with storefronts (learning labs), that simulate actual places, like a bank, hardware store and barber shop, offering vocational training and everyday life skills within a "real life", self-contained, structured environment.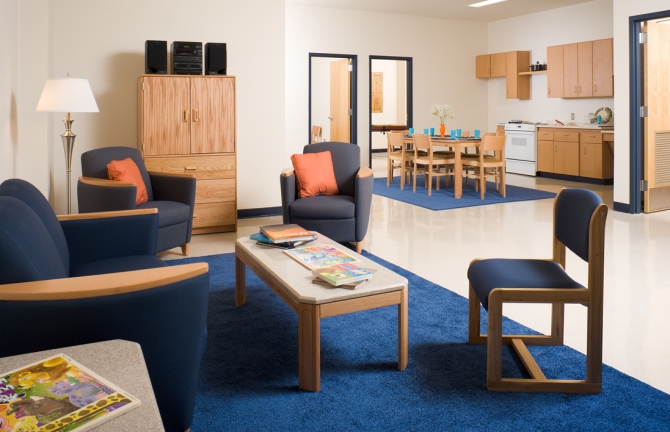 Other learning labs include a working greenhouse, boutique, laundromat, arts and craft center and fully furnished apartment.
A diner with checkerboard finishes and 1950's-style booths, and al fresco dining, were incorporated into the design in lieu of a traditional cafeteria, so that students become familiar with public-style eateries, which was a concern expressed by parents during the data gathering phase. This controlled environment allows students to dine and work on enhancing their social skills.
8,680 sf gymnasium with an elevated indoor track and a fully equipped health/fitness center with weights and cardio equipment, along with 2 swimming pools - a competition pool and zero entry pool designed with fun water features for the students' sensory exploration and therapy programs. Some of these amenities are also used by nearby school districts.
Featured in 2008 Exceptional Parents Magazine
Featured in 2008 Learning By Design