SCI Benner Township: New Medium Security Facility
In a design-build relationship with Gilbane, USA created the bridging documents for a new Medium Security Facility which accommodates a housing capacity of 2,300 beds.  The facility is based on 8 butterfly housing wings adapted from the Pennsylvania Department of Corrections prototype, modified with two fan shape configurations of 4 housing units each. Each cell is designed for two inmates.  There are two restricted housing units that incorporate single occupant cells where each house 96 inmates. The facility is designed around a campus plan. A secure corridor connects the administration building to the buildings within two perimeter security 14' fence enclosures.  The security includes three electronic detection systems (infrared, microwave, and CCTV), a zone management system and multiple coils of razor ribbon. Central control is located at the opposite end of the corridor with views of the facility functions.  The main core building houses visitation, medical, inmate receiving/discharge, dining, vocational shops and a central regional laundry. The other core building is located a few hundred feet away and houses the campus chapel, educational and vocational classrooms, library, barbershop and the physical education center. The campus is designed to separate general population into two groups and each is anchored by a large outdoor recreation yard encompassing a football field and running track.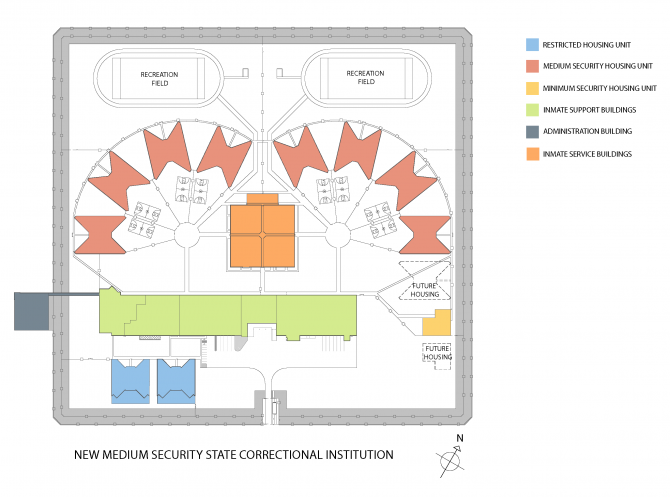 The housing units are two stories in height and incorporate a housing mezzanine at the upper level.  The support buildings are one story. The housing units are designed as pre-fabricated concrete modules. The support buildings are designed around a structural steel grid that is clad with solid masonry units.  All windows are security glazed and vary depending on the security level. Sustainable design features include geothermal and high energy efficient systems.