William Allen High School 9th Grade Academy
Allentown School District, Allentown, PA
LEED Gold certified Clifford S. Bartholomew Building at William Allen High School is a free standing, 85,000 square foot, 3-story 9th grade academy designed on a vacant city block that is connected to the main campus building by an overhead pedestrian walkway. The bridge allows students to travel safely to and from the main campus buildings and also serves as the conduit for telecommunication, fire alarm and other functions that service both the new and existing buildings. Overcrowding and projected population growth were the driving factors behind this construction initiative that transferred 800+ ninth grade students from the existing high school to the new building.

The new facility features 28 classrooms, two-story cafeteria, media center and administration space, all protected under a sustainably designed "green" roof system, as well as an underground faculty parking garage. The constructed project is an 84,476 square foot addition to the William Allen campus.
The project includes 234,000 square feet of renovations to the existing main campus which is comprised of 6 educational buildings up to 4 stories tall, totaling 447,147 square feet, as well as two elevator additions. The renovations included the inclusion of two new dance studios and upgrades to athletic facilities (including locker rooms and team rooms), art and music classrooms, gymnasiums, kitchen/cafeteria, auditorium, black box theatre, natatorium and 100 classrooms.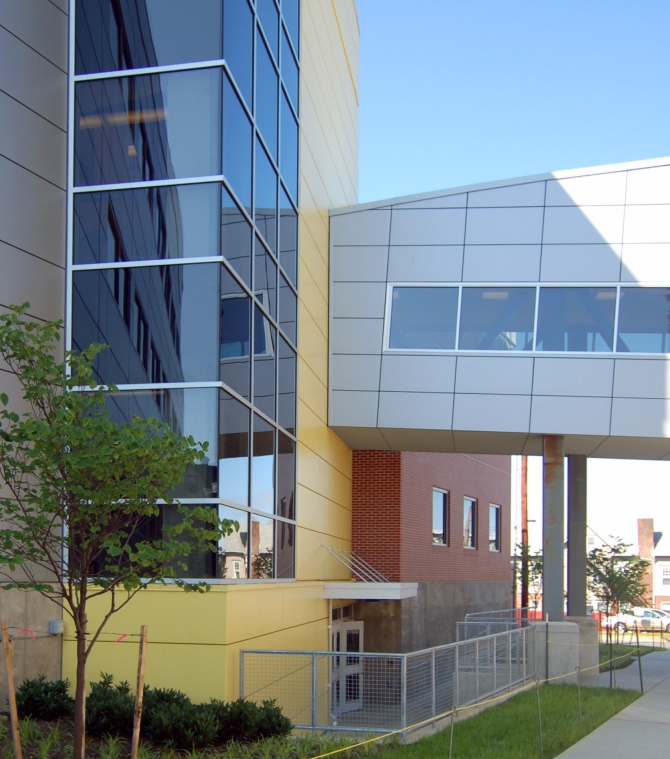 Four components drove the organizing principles for the configuration and design of the new academy:
The School District's new "team-based" educational curriculum - The educational spaces were designed into "pods", housing 120 students into three general classrooms and a science laboratory. The science laboratory is flexible space serving as a lab, as well as lecture/classroom space. The new facility consists of eight pods with Faculty Workrooms being shared between pairs of pods. Additionally, two Special Education classrooms, as well as two additional classrooms serve the Reading 180 program and other specialized programs where students from different teams meet.
Security – Since there are two entrances, on two different city streets, each had to be strategically planned given its primary access to specific functions of the building. The main entrance was designed with a security office for staff to verify students entering the facility. This entrance leads directly to the main interconnecting stair which is open at all levels of the facility. Each floor level has an administrative office which has visual control of the stair and elevator. The Main Administration Area contains the Assistant Principal's Office, a Conference Room, Counseling Office and the Health Suite. This provides spaces for visitors only and eliminates the need for anyone other than staff and students to be in the corridors or other spaces.
Community-Use Space – A second entrance accesses a portion of the building that is available to the Community, primarily the Cafeteria, situated adjacent to the main entrance. With the use of overhead coiling gates, access to other areas of the school is prevented.
Limited Site Area And Zoning Ordinance Requirements – Given that this is an urban school district with limited site area and a zoning ordinance requiring onsite parking, an underground parking garage with card access control system was incorporated. Access from the parking area is separate from the student entrance to ensure faculty security.
The William Allen Ninth Grade Academy is the 2nd school in the district to attain LEED Gold certification. In order to achieve Gold status, the building was modeled to use 29.4% less energy than comparable buildings, and included the following elements as part of its design/construction:
Green roof system to reduce the urban heat island effect, help filter stormwater and provide a habitat for wildlife. It also functions as a living classroom where students learn about sustainable technologies
Daylighting in classrooms to improve health and performance
Energy efficient heating/cooling systems and increased ventilation systems for superior indoor air quality
Use of aluminum windows and sunshades improve the thermal efficiency of the building
Use of low emission paints and materials
Low-toxicity, 27.96% high-recycled content building materials
Diverted 94.23% of on-site generated construction waste from landfill by recycling
Purchased Green Power
Careful collaboration between the Owner, Design team, and the Construction Manager from the inception was an important aspect of the project as the district had not undertaken a major construction project in well over 25 years.  This close team collaboration along with cooperation from multiple prime contractors was the cornerstone of achieving an on-time and under-budget project.