Residence Hall Expansion
Northampton Community College
Northampton Community College's student population has expanded to such a degree that student housing has become a priority.  USA has developed a concept design to expand the College's existing housing facilities by adding additional student bedrooms, reorganization of common spaces, increase of circulation through the residential areas, and introduction of sustainable design elements.  The design is mindful of a strict budget and offers construction methods and materials that will maintain an economically viable project.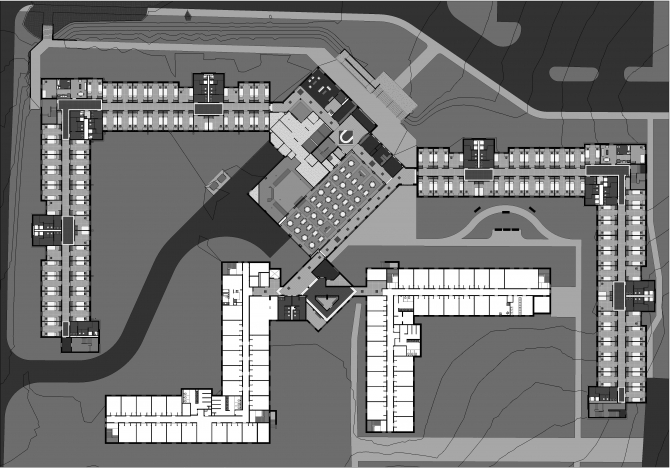 Smaller living environments are introduced whereby a cluster of bedrooms share a common bathroom.  The cluster design allows for the addition of bedrooms to the existing floor plan.  Corridors are wider which provide a greater sense of public space and break up the constricted linear nature of the circulation spaces.  Natural light is emitted through glass stairwells at each corridor.  A new entrance has been designed surrounded by common areas and act as the new student hub.
Sustainable materials include local products such as Lutron and renewable products such as bamboo flooring.  The design is flexible enough where it can be constructed with traditional materials or it can be modularized, fabricated in a factory and then erected by crane on the job site. Energy efficient systems that rely on non-fossil fuel systems will be analyzed for cost effectiveness; including geo-thermal, induction lighting and solar systems.