Technology Center + Corporate Headquarters
Holtec International, Inc.
In efforts to continue its exponential growth and contribute to the redevelopment and revitalization of Camden, Holtec International relocated its corporate headquarters, manufacturing facility, and warehouse along the newly developed, 50-acre waterfront campus in Camden, New Jersey. This was a strategic move made by the energy-tech giant: to synchronize both the corporate and manufacturing workforce into one location, expand manufacturing capacity, and increase employment to over a thousand workers via GrowNJ and NJEDA tax credit initiative. Holtec saw an opportunity to commit an investment that will have a significant and positive economic impact on the City of Camden, South New Jersey, and the region.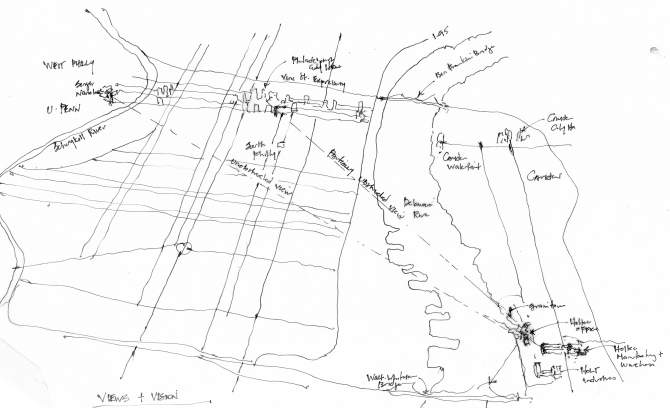 The design of the corporate headquarters is founded on this idea of value and providing an environment that constantly fosters creativity and gives employees the ability to realize their professional potential to the maximum extent.
The site is located at the base of the Walt Whitman Bridge and looks across the harbor towards Philadelphia. The 11 acre campus was redeveloped from an existing brown site into a new 160,000 SF, 7-story corporate headquarters, 500,000 SF manufacturing facility and a 150,000 SF warehouse The corporate HQ building features a floor-to-ceiling curtain wall with limestone panels, a roof deck, a 2-story atrium lobby, multiple open meeting centers, two cafes, and open concept office spaces with views of the Philadelphia skyline. The manufacturing facility and warehouse contain 200-ton cranes, a reactor test loop, and several auxiliary buildings to support the increased operational demands. It also includes support functions for employees such as: locker rooms,  rest rooms , foodservice, health and safety support, administrative space, and offices. 
The project received 3 LEED Gold certifications; each relevant to the buildings on campus. This made the entire campus rated LEED Gold certified. Specific concepts of sustainability were implemented such as using sun shading and building angles to control daylight to the office areas. 
The building was designed to accommodate a phased construction period, and also sized to accommodate future expansion.