New Corporate Headquarters
JDS Uniphase – Epitaxx, Inc.
USA designed several projects for this manufacturer of communications wafer technology:
42,000 sf corporate headquarters
26,000 sf addition to the existing headquarters
8,000 sf of renovations to existing space to new class 1,000 to 100,000 wafer production cleanrooms
25,000 sf expansion of manufacturing at a satellite building, also located in Ewing.
The corporate headquarters, designed as a speculative research and development facility for two tenants, was purchased by Epitaxx who then retained USA to design their new headquarters and new addition. The project involved the relocation of lab/research and development areas, light manufacturing areas, as well as the incorporation of dining, shipping and receiving, and workspace.
The new facility incorporates clean room tunnels ranging from class 100 - 100,000.  Five cleanrooms, ranging in size from 650 sf to 2,300 sf are separated by service corridors that supply the oxygen, hydrogen, compressed air and other process systems to the cleanrooms. The facility also incorporated material testing laboratories, and an electronic lab that are utilized for new product development and general assembly workstations.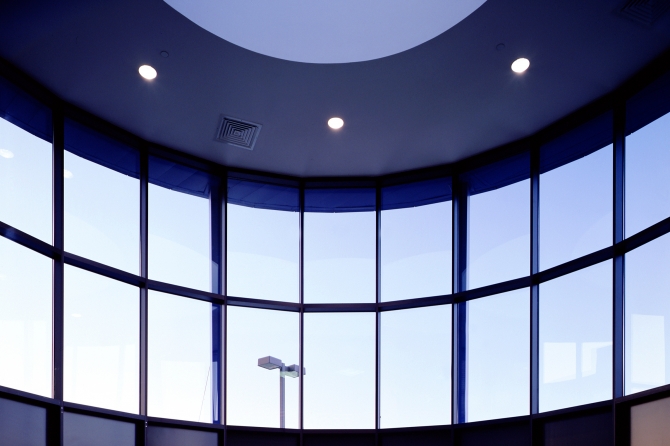 The front area of the building is dedicated to offices for administration and sales, while the remaining areas of the building consist of high bay space and feature clerestory windows, since many of the laboratory spaces are clear height. Mechanical systems, structural elements and other utilitarian elements were painted a deep purple, offset by white undulating walls separating the various building components.